'A Mindful South Florida' community event and workshops
December 6, 2019 @ 5:00 pm

-

8:30 pm

|

Recurring Event

(See all)

One event on June 28, 2022 at 5:00 pm

Improved Mental Health Through Mindfulness- Based Programs
EFFECTIVE SOLUTIONS IN … HEALTH • EDUCATION • JUSTICE • LAW ENFORCEMENT • PUBLIC POLICY • NONPROFITS
RESEARCH demonstrates effectiveness in reducing stress, anxiety, depression, addictions, substance abuse (including opioids), disconnection, suicide and violence.
JOIN US for cutting edge talks illustrating the life cycle of mental health and illness with three national experts, researchers, leaders in mental health, behavior, brain mechanisms, addictions; comprehensive systems, community-based treatment, legal system; education system, teachers and students.
FEATURED PRESENTERS
| | | | | |
| --- | --- | --- | --- | --- |
|   | | | |   |
| Judson Brewer, M.D., Ph.D., Psychiatrist, Neuroscientist, Researcher Mindfulness in Addictions, Behavior, Mechanisms, Anxiety | | Hon. Steven Leifman, Judge for 11th Judicial Circuit of Florida, national leader of community-based mental health programs and criminal justice. | | Patricia A. Jennings, M.Ed., Ph.D., educator and researcher, Curry School of Education and Human Development, University of Virginia |
---
COMMUNITY EVENT
REGISTRATION REQUIRED (FREE on EVENTBRITE)
Brewer, Leifman and Jennings
FRIDAY, DECEMBER 6, 2019
BILTMORE: Reception and Talks 5:00 p.m. to 8:30 p.m.
BILTMORE: Book Signing hosted by Books & Books to follow.
BILTMORE: 'Connecting with ourselves, each other and our world' exhibit, concurrent.
The Biltmore Hotel, 1200 Anastasia Avenue, Coral Gables Florida
This event is fully registered. Use the waiting list for this event: bit.ly/amsfwaitlist
---
POST-EVENT WORKSHOPS
REGISTRATION REQUIRED (PAID on EVENTBRITE)
Introductory All-Day
Mindfulness-Based Workshops
SATURDAY, DECEMBER 7, 2019 
Miami: Gus Castellanos, M.D., and Valerie York-Zimmerman, "Introductory Mindfulness-Based Workshop," 9:00 a.m. – 3:00 p.m. Held at UHealth Fitness and Wellness Center at Miller School of Medicine, 1120 N.W. 14th Street, 12th floor, Miami 33136. Free Parking.  $30. 
Pompano Beach:  Knellee Bisram, AHAM Education (Academy of the Heart and Mind), Broward Schools Superintendent's Mindfulness Initiative, and Friends. "Mindfulness Day Retreat and Introductory Mindfulness-Based Workshop," 8:30 am – 3:30 pm. Held at Pompano Administrative Center, 610 NE 13th Ave, Pompano Beach, FL 33060. Free Parking. $30.  USE THIS LINK TO REGISTER: https://browardmindful.eventbrite.com/
SUNDAY, DECEMBER 8, 2019
Delray Beach:  Gus Castellanos, M.D., and Friends, "Introductory Mindfulness-Based Workshop," 9:00 a.m. – 3:00 pm. Held at The Duncan Conference Center, 15820 S Military Trail, Delray Beach, FL 33484.  Free parking. $30. 
Miami Shores: Patricia A. ("Tish") Jennings M.Ed., Ph.D. – "Trauma-Sensitive Mindfulness Workshop," 12:30 – 4:00 p.m. Held at Barry University, 11300 N.E. 2nd Ave., Andreas Hall, Room 112, Miami. Sponsored by Mindful Kids Miami and Barry University. $50.  (MDCPS discount available through Mindful Kids Miami.) 

SATURDAY, DECEMBER 14, 2019 
DAVIE: Nova Southeastern University, "Mindfulness-Based Self-Care for First Responders and the Healing and Helping Professions," 9:00 a.m. – 4:00 p.m. Held at Huizinga Sales Institute, 3301 College Avenue, Carl DeSantis Building., 3rd Floor, Davie 33314. Free parking. No charge. Sponsored entirely by NSU. 
South Miami: "Intro to Mindfulness with Mindful Kids Miami," Location: Riviera Presbyterian Church, Mindful Kids Miami Room 19, 5275 Sunset Drive, Miami. Parking: Free at Coral Gables Municipal Parking Lot adjacent to the Church; need parking permit (available on site). Time: 1:30 to 3 p.m.  Cost: Donation.
---
LIMIT ONE: 
If you have friends who intend to come with you, then they should register with their own full name, email, organization and job title. We will have a one-
per person check in procedure at the door. Incomplete or questionable registrations will be voided.
---
SPONSORS & COMMUNITY PARTNERS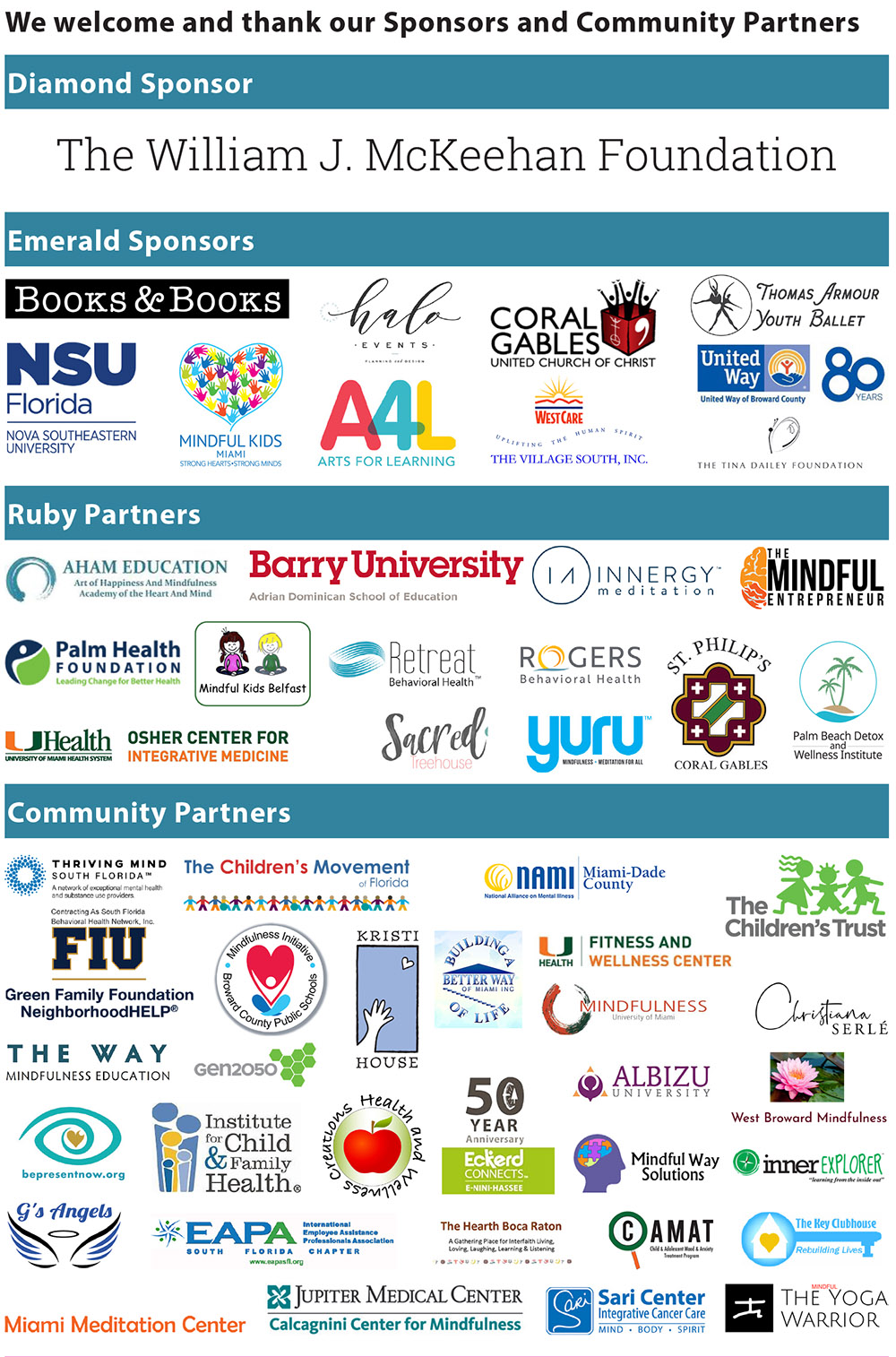 We Welcome and Thank our Sponsors and Community Partners.
Presented By
Valerie York-Zimmerman
ijourney@att.net
Gus Castellanos, M.D.
gus@18mind.com
 
We hope you can make it! 
— Valerie York Zimmerman and Gus Castellanos, M.D.
Related Events